I inherited my love of fabric and making from my mother who was always sewing new curtains or cushions for our family home.
I started my first house renovation at the age of 22 whilst working full time for a trade union. All my spare time was spent bringing the Victorian cottage back to life. I had no formal training in soft furnishings at that point but I'd picked up so much from my mum and by the time I was ready to make curtains and blinds I was already working for Peter Jones in Sloane Square so the discount on fabric came in very handy! I stayed with the John Lewis Partnership for 16 years and learnt so much about the importance of good customer service and display in a retail environment. It also gave me an appreciation of good quality fabrics and accessories.
I did 3.5 years training on haute couture dressmaking for the fun of it but switched back to my old love of soft furnishings.
Moving to Dolgellau 10 years ago I thought I'd try to turn my interest into an income source and enrolled on some full time diploma courses making hand made blinds, cushions, lampshades and curtains at two renowned academies in Hertfordshire and Shropshire.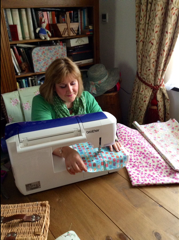 I am a self confessed textile addict so making soft furnishings and accessories is the perfect past time. I have a particular love for vintage fabrics and get a buzz from putting these delicate materials on to lamp liners which mean they get an extended life span – I have a few of these in my own house in rare fabrics and If I'm not careful I can get really engrossed in searching auction sites for unusual and nostalgic prints to turn into lamps and have been known to spend days looking. My collection of fabrics is vast and varied but there's always room for more!